16 January, 2015
Pavlova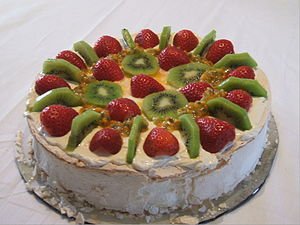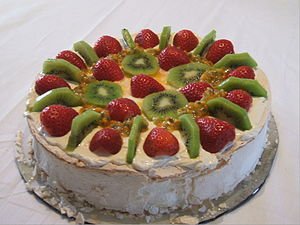 Tags:
Deserts
,
New Zealand
Pavlova
by the way, Invented in New Zealand. No matter how often the Australians claim it the proof is very clear. Pavlovas are usually decorated with kiwifruit or strawberries and loads and loads of cream.
Ingredients
3 egg whites
3 tablspoons cold water
1 cup caster sugar
1 teaspoon vinegar
1 teaspoon vanilla essence
3 teaspoons cornflour
whipped cream
freshly sliced fruit of the season, if using bananas, slice then brush with lemon to prevent from browning.
Instructions
Pre-heat oven 150C.
Using an electric mixer with a clean bowl.
Beat egg whites until stiff.
Add water and beat again.
Add sugar gradually while still beating.
Slow beater, add vinegar, vanilla and cornflour.
Line an oven tray with baking paper, draw a 22cm circle on it.
Pile the pavlova mixture to within 2cm of the edge of the circle, smooth surface over.
Bake for 45 minutes, then leave to cool in the oven.
Decorate with whipped cream and your choice of thinly sliced fruit.