16 January, 2015
Apple Bread n Butter Pudding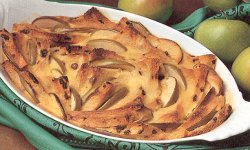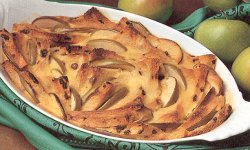 Tags:
Deserts
Apple Bread n Butter Pudding
Ingredients
8-10 slices fruit bread
2 Granny Smith apples
½ cup bourbon
600 ml cream
1 teaspoon mixed spice
½ cup castor sugar
3 eggs
Instructions
Remove crusts from bread, cut each slice in half diagonally.
Core apples and slice thinly leaving skin on.
Arrange bread and apples in a lightly greased ovenproof dish.
Combine bourbon, cream, spice, sugar and eggs, pour over bread and apples.
Stand for 10 minutes before baking at 180 C for 1 hour.
Stand this in a larger baking dish with water coming up half way on side of dish.
Serve warm or cold.