23 April, 2015
Orange Roasted Duck.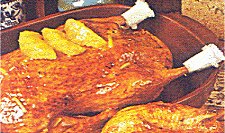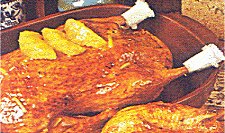 Tags:
Poultry
,
Wild Game
Orange Roasted Duck
Ingredients
Sauce:
1 orange
½ cup orange juice
1 tablespoon sugar
2 teaspoons white vinegar
2 cups water
2 chicken stock cubes
2 teaspoons lemon juice
3 teaspoons arrowroot
½ cup sweet sherry
¼ cup Grand Marnier
salt, pepper
2kg duck
60g butter
Instructions
Fill duck with favourite stuffing.
Place in roasting pan, brush with melted butter.
Bake in moderate oven 1 hour, brushing occasionally with juices in the pan.
Remove rind from orange, and any white pith.
Cut rind into strips, drop into boiling water, boil three minutes; drain.
Put sugar, vinegar, water, crumbled stock cubes, orange and lemon juices and blanched strips of orange rind into saucepan, stir until boiling; boil rapidly until sauce is reduced by half.
Blend arrowroot and sherry, stir gradually into sauce, stir until sauce boils and thickens; reduce heat, simmer 2 minutes.
Add salt, pepper to taste, stir in Grand Marnier.
Drain pan juices off duck, add prepared sauce to pan; brush duck well with sauce.
Return to oven, bake further 40-50 minutes basting frequently with sauce until duck is cooked and well glazed.