2 February, 2015
Spinach wrapped fish fillets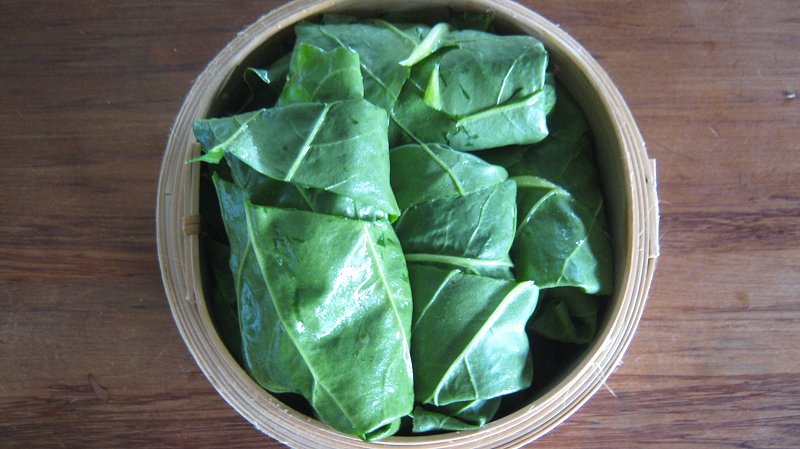 Tags:
Fish
,
Freshwater fish
,
steamed
,
Vegetables
Spinach wrapped fish fillets
This is a delicious change to eating fish and very easy to make.
Recipe type:
Fish and vegies
Ingredients
A number of large spinach leaves.
Fillets of fish cut into pieces about the size of your thumb.
Onion
butter
pepper and salt
various herbs as in recipe below
lemon or lime zest or juice.
Instructions
Remove the hard stalk from the large spinach leaves by cutting them in a V shape and lay one on a board with the large end towards you. You can also add another leaf to fill any broken areas or bulk it out a bit.
add a nob of butter at the beginning where you are going to lay the fish.....and sprinkle pepper and salt on the leaf as this seasons the whole wrap when finished..
lay a few half rings of onion and then lay down a piece of fish.
Add whatever you want at this point in the way of spices or herbs. I like a fine touch of star anise and lemon zest. another is to use a sliver of mango or a smudge of green curry past.... some chilli or really you can make several different ones.
Wrap the spinach leaf up folding the edges in so you get a nicely wrapped parcel and place in a bamboo steamer or if you don't have one any steamer would do.
Make other parcels and add them to the steamer. I find 3 per person enough.
Put steamer on a pot and about 10 mins cooking is enough once the steam is happening.