22 January, 2015
Citrus Sorbet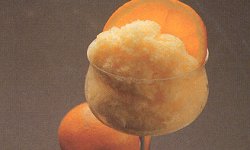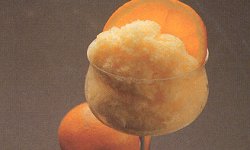 Deserts
,
Entree
,
Fruit
Citrus Sorbet
Ingredients
¼ cup sugar
¾ cup water
2 teaspoons gelatine dissolved in 2 tablespoons hot water
½ cup lemon juice
½ cup orange juice
1 egg white
2 teaspoons grated lemon or orange rind
1 tablespoon Cointreau
Instructions
This can be served up an as entree or enjoyed as a dessert.
Chill glasses for serving.
Gently heat sugar and water in saucepan until sugar dissolves.
Allow to cool.
Add gelatine to syrup, then sitr in fruit juices.
Pour into a freezer tray and freeze for 1 hour - or until it begins to set.
Remove from freezer and place in bowl.
Whisk egg white until firm (making sure you use a clean bowl) fold this into fruit mixture.
Add grated fruit rinds and Cointreau.
Return to freezer tray and freeze for a further 2 hours.
Whisk again if necessary before serving.
Serve in well chilled glasses.