22 January, 2015
Pineapple Fruit Salad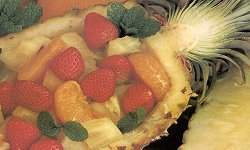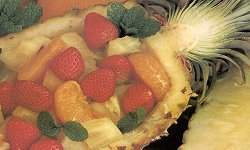 Deserts
,
Fruit
Pineapple Fruit Salad
Ingredients
1 large fully ripe pineapple
2 punnets strawberries
(discard any if bruised)
caster sugar to taste
4 large mandarins
kirsch or orange liquer, optional
mint leaves for garnish
Instructions
Cut pineapple in halves lengthways, through the crown of the leaves.
Run a short knife around the fruit about 1.2cm (1/2") from the shell to loosen the fruit without piercing the skin.
Use a pointed knife to cut straight down through the core, dividing the fruit into about four spears.
This makes it easy to lift from the shell in sections.
Slice off, discard core and cut the fruit into cubes.
Sprinkle with a little caster sugar and liqueur.
Wash and hull strawberries, macerate in caster sugar and liqueur.
Peel mandarins, removing all white membranes and seeds.
Chill fruit until ready to serve up, then pile all fruit into the pineapple shell, decorate with sprigs of mint.
Serve chilled.