17 January, 2015
Watermelon Sherbet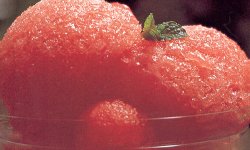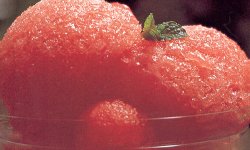 Deserts
,
Fruit
Watermelon Sherbet
Ingredients
1 large watermelon (making sure it has a good shape)
sugar to taste
3 teaspoons gelatine
½ cup water
rose water or lemon juice to taste
mint sprigs for garnish
Instructions
Wash melon and cut off top third of shell.
With a melon baller make perfect melon balls from the solid flesh near the skin of the melon.
Leave the softer, spongier center portion for the sherbet.
Remove all seeds from the scraped melon and puree in a blender.
Add sugar to taste, keeping in mind when frozen the sweetness diminishes somewhat.
Sprinkle gelatine over cold water in a cup and leave for 5 minutes to soften, then dissolve over hot water.
Stir into watermelon pulp.
Add lemon juice or rose water to taste, then pour into freezer trays and freeze.
When half frozen remove from freezer beat with beater, then return to tray and freeze again until quite firm.
Decorate edge of melon with peaks (ie: zig zags made with sharp knife) cover with cling wrap and chill.
Cover melon balls and chill separately.
When serving use an ice cream scoop to make balls of the frozen sherbet and pile them into the watermelon shell together with the melon balls.
Decorate here and there with sprigs of mint and serve immediately.