16 January, 2015
Alan's Seafood Chowder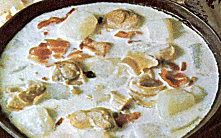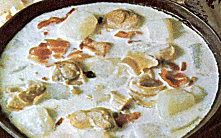 Tags:
Fish
,
Soups stews and casseroles
Alan's Seafood Chowder
Ingredients
3 large potatoes (diced)
1 large carrot (diced)
1 large onion (diced small)
1 cup of dried green peas
3 bay leaves
1 packet of Maggi Seafood Chowder dried soup mix.
1 cup of white wine
5 litres of water
2 tablespoons butter
2 egg yolks
2 tablespoons flour
½ kilo boned white fish, diced into small pieces
1 cup shrimps or prawns
6-10 large mussels
1 pkt Creme Fraiche (or use thick cream)
1 small ordinary cream
1 pkt fish stock.
Instructions
MAKE UP FISH STOCK.
Boil for about 10 minutes any left over fish heads or frames, also the bay leaves and then remove from heat and pot and try to scrape off any flesh and return those pieces to the stock.
Add the wine.
Add the packet of Soup mix and commercial fish stock if you want to boost the stock. While the stock is simmering
add the mussels for a minute or so and remove.
Let them cool and then chop them up into small bits and place them aside.
ADD INGREDIENTS
Add to the stock; potatoes chopped into small chunks, the onion finely chopped, peas and the chopped carrots and simmer for 20 minutes or so ensuring that the veggies are cooked. Now add the diced fish, shrimps/prawns, chopped mussels and remove the bay leaves. Simmer for a future 10 minutes.
THICKEN
Slightly warm the butter in a bowl and add the two egg yolks mixing together well.
Add some of the flour, mix and add more or all of it.
If the mix gets too thick add some of the cream and then finally add all of the Creme Fraiche mixing well.
Use the standard cream to keep the mixture thin enough to mix well.
Take chowder from the stove and then take from the chowder a ladle of liquid and mix it into the thick cream sauce.
Add enough to make the mixture thin enough to pour into the chowder stirring quickly so that it all mixes well.
Put the chowder back on the stove and stir until it is
close to simmering again and it thickens slightly.
NOTE:
DO NOT bring back to the boil.
Serve this with crusty bread for a complete and delicious meal.