11 January, 2015
Roast Wild Duck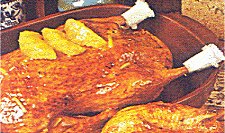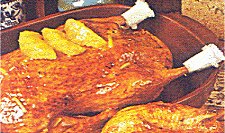 Tags:
Poultry
,
Wild Game
Roast Wild Duck
Ingredients
A:
lemon juice
1 cup breadcrumbs
½ medium onion, grated
salt and pepper
1 tablespoon butter
B:
1 apple peeled cored and grated
cut up ducks liver and heart
chopped parsley
1 egg
C:
bacon rashes to cover breast of duck
tin foil
sherry
orange juice
Instructions
At some stage before cooking place lemon inside the duck.
Remove lemon and stuff duck with the mixed ingredients (A+B)
Cover duck liberally with butter.
Place bacon rashers over breast of duck add salt, pepper.
Place duck in roasting pan with a little water and cover with tin foil.
Cook in oven 180C (350F) for 1½ hours.
Baste 3 times during cooking.
Add sherry and orange juice to the gravy.